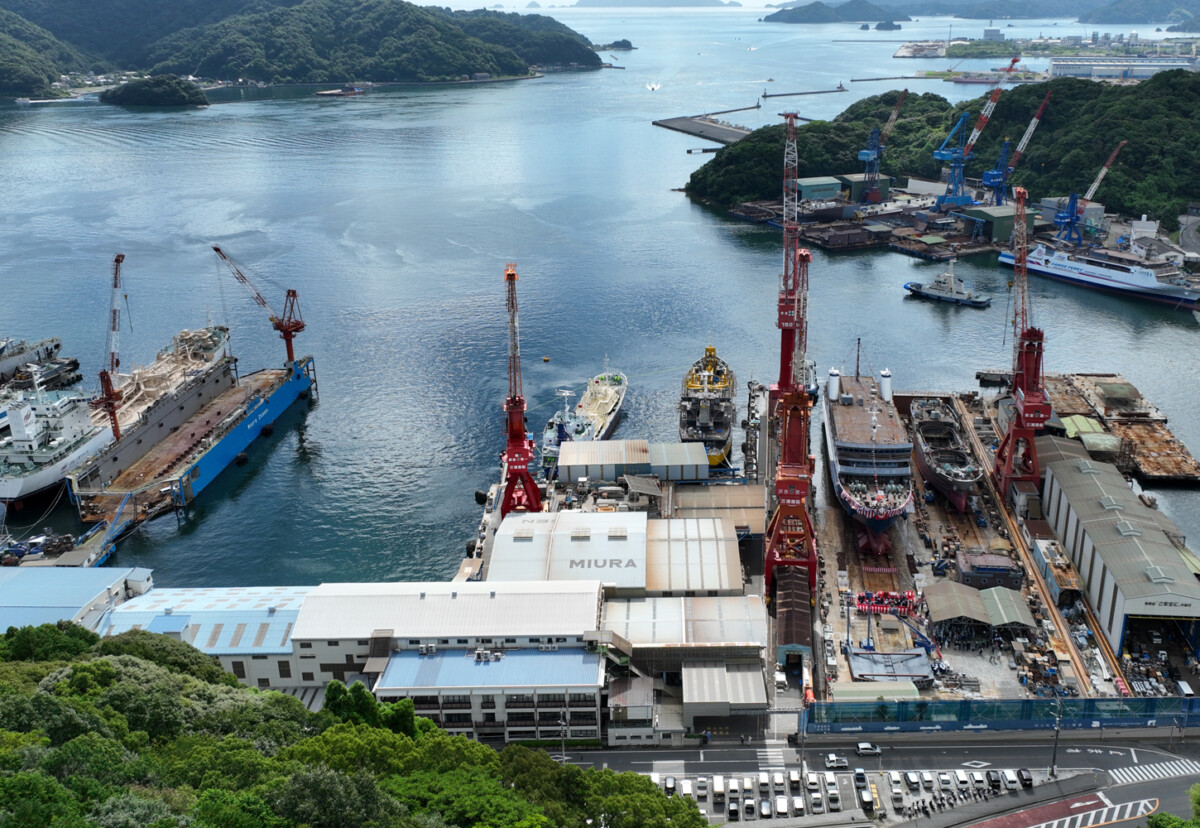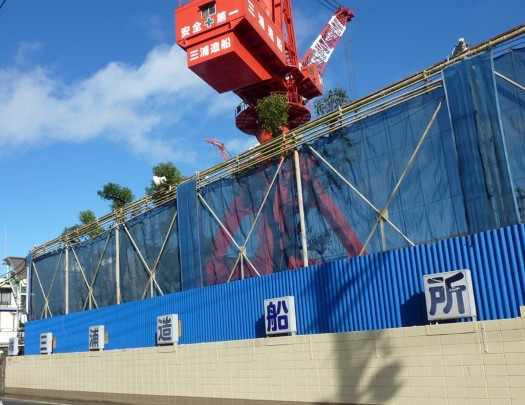 4900 Oaza Tsurumi
Saiki City, Oita 876-0011 JAPAN
Phone: +81(0)972-22-2033 FAX: +81(0)972-22-0301
URL https://miurazosen.jp
---
Outline of the company
Campany name :

 Miura Shipbuilding Co., Ltd.

President: 
Establishment:

November 1st 1960
Incorporated as a Co., Ltd. – October 30th 1964

 Head Office: 

4900 Tsurumi, Saiki-City, Oita Prefecture, Japan

 Capital:
 Banks: 

The Kitakyushu Bank, Ltd. (Oita Branch)
The Oita Bank, Ltd. (Saiki Ekimae Branch)
Mizuho Bank, Ltd. (Oita Branch)

 Number of employees: 

51 in the head office and 368 in our subcontractors

Members of Board: 

Masanobu Miura (Chairman)
Tadahide Miura (President)
Yasunobu Miura (Executive officer)
Hayato Miura (Executive officer)
Keiji Iwasaki (Executive officer)
Yuzuru Sonoda (Executive officer)
Yasumasa Futaba (Company auditor)
Kyouko Iwasaki (Company auditor)

Business Contents: 

Production of the steel ship up to 9,990G/T
Repair of the steel ship up to 4,000G/T
General construction

Building record:  

Year 2012 / 12 vessels / Total 22,234 gross tons
Year 2013 / 6 vessels / Total 34,599 gross tons
Year 2014 / 13 vessels / Total 17,680 gross tons
Year 2015 / 12 vessels / Total 19,940 gross tons
Year 2016 / 11 vessels / Total 21,506 gross tons
---
Main Factory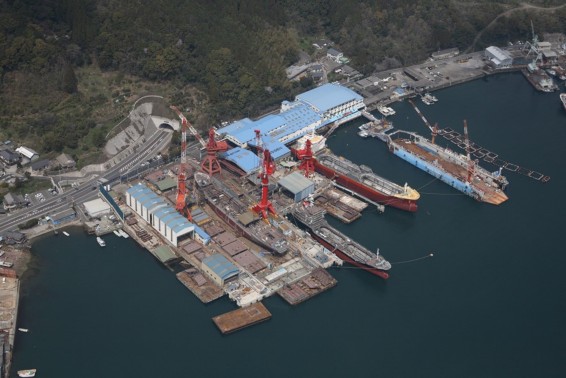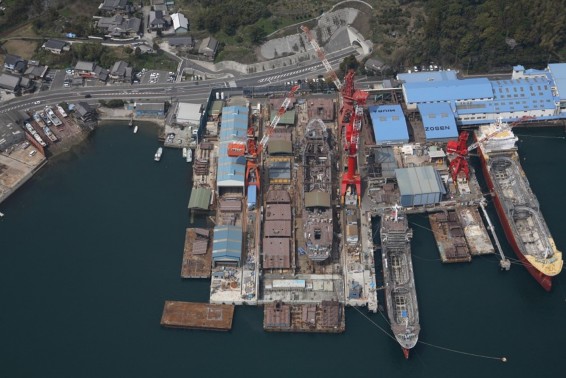 Capability of building:
Semi-dry dock Slipway No,6 154.0m × 24.0m / 9,990G/T Slipway No,5 108.0m × 16.2m / 4,000G/T
Kaizaki Factory
All blocks are built under the roof.
Yard Length × Breath 125m × 30m
Nooka Factory
Manufacturing the pipes and outfittings.
Some of spaces are serviced as Oita Prefiecture Shipbuilding Technical Center.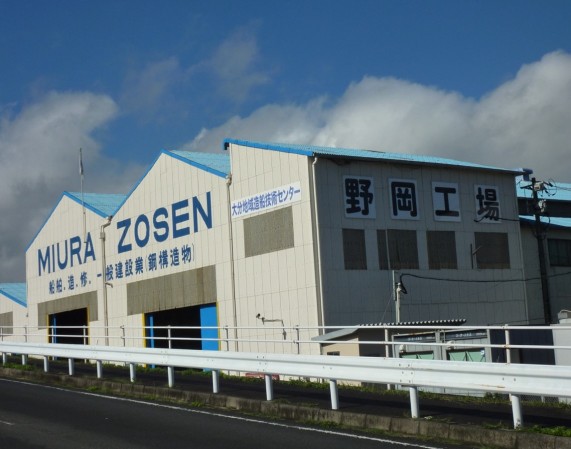 Yard Length × Breath 125m × 30m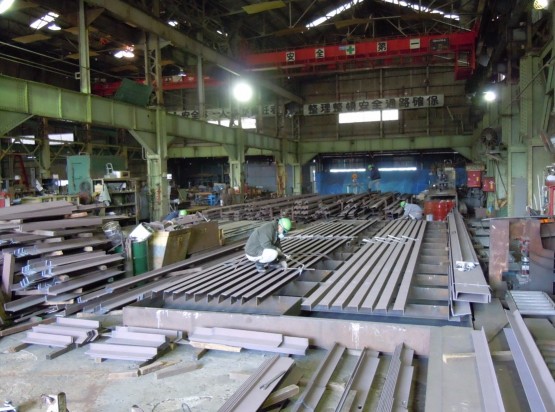 Yard Length × Breath 125m × 30m
Blasting / Painting Facility
For Performance Standard for Protective Coatings.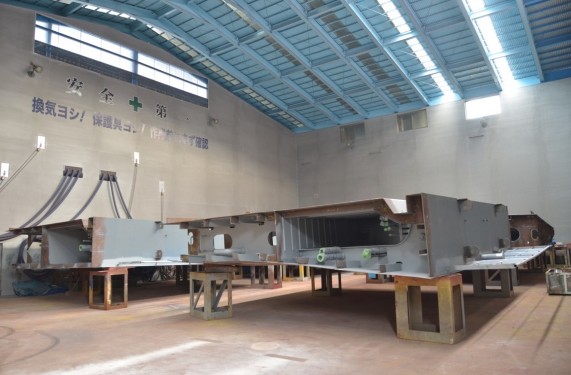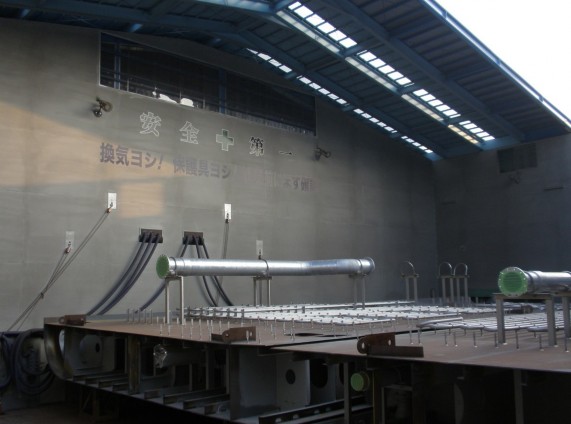 With opening the movable roof, the building blocks can be got in/out.
Installation of the Main Engine Unit by 150T crane.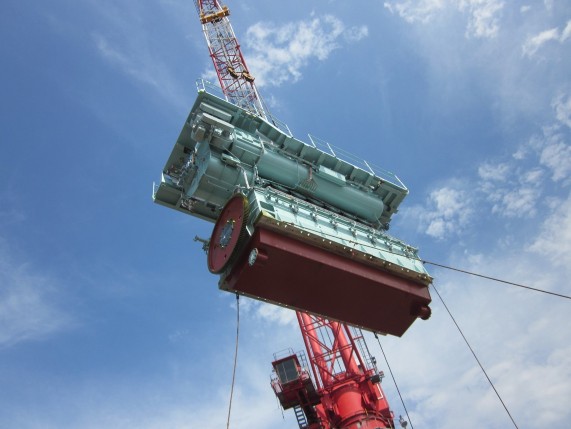 Installation of 95 ton main engine.
---
Our Floating Dock is avilable for inspection as a part of complete servicing after delivery vessels.
This complete servicing includes the guarantee docking at one year after delivery new vessel, a periodical survey docking and necessary repairs if requested. Our docking facilities have sufficient capacities in accommodating the vessels built by us.
With the above mentioned floating dock , we will be able to comply with our customers needs completely from new building to the repairs in future. Informative data obtained from such repairsII be fed back for newbuildings , enabling us to build more reliable a highly value added vessels. We are ready to comply with ship owners' requirements whatever the matters could be. and able to meet a modal shift whenever so need.
| | | |
| --- | --- | --- |
| Sinking | Docking-in | Floated-up |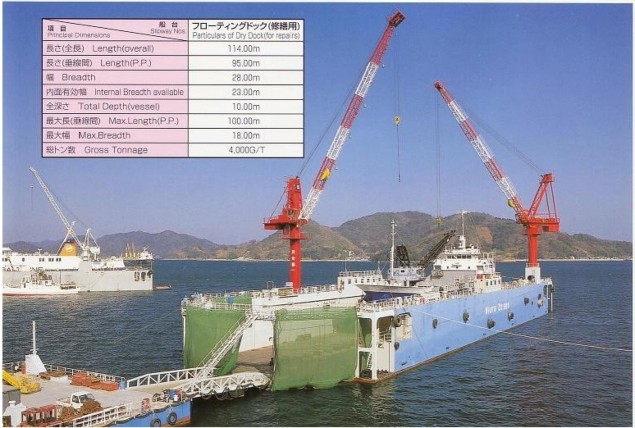 ---
A solar photovoltaic unit on our dock house.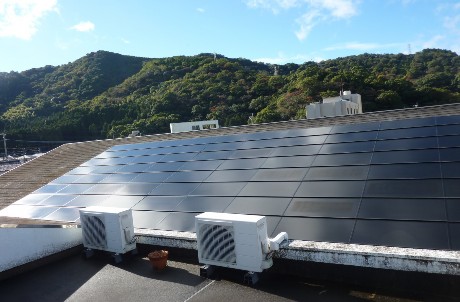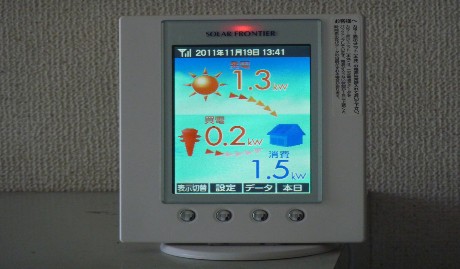 Number of rooms
1F: 5 single bed rooms with 19.86m2, a galley, a common toilet, a common bath room and a laundry room
2F: 11single bed rooms with 19.86m2, a large tatami room of 39.72m2 and a common toilet.
---
Presentation of aerial photograph
When the delivery of a vessel.
YONE-MARU

749 G/T General Cargo Ship

Award of Ship of the year 2011, Domestic cargo vessel category.

Own forestland that makes a contribution of CO2 reduction.

*20,000 trees of 40 year Japanese cedars

 
---
Varieties of our products.
<TANKER>

SNo.1283

Chemical Product Tanker

L x B x D: 105.00 x 17.00 x 9.00

Gross tonnage: 3,997 tons Deadweight: 5,552 tons

SNo.1313

Dirty Oil Tanker

L x B x D: 104.62 x 16.00 x 8.10

Gross tonnage: 3,495 tons Deadweight: 4,998 tons

SNo.1328

Clean Oil Tanker

L x B x D: 69.98 x 12.00 x 5.20

Gross tonnage: 749 tons Deadweight: 1,881 tons

SNo.1332

Clean Oil Tanker

L x B x D: 104.45 x 16.00 x 8.10

Gross tonnage: 3,796 tons Deadweight: 4,999 tons

SNo.1325

Chemical Tanker

L x B x D: 129.30 x 20.00 x 11.20

Gross tonnage: 7,745 tons Deadweight: 13,000 tons

<SELF UNLOADER SHIP>

SNo.1252

Fly ash/ Calcium carbonate carrier L x B x D: 85.00 x 14.50 x 7.50

Gross tonnage: 1,989 tons Deadweight: 2,300 tons

SNo.1316

Fly ash/ Calcium carbonate carrier L x B x D: 105.00 x 17.50 x 8.55

Gross tonnage: 4,774 tons Deadweight: 4,500 tons

SNo.1317

Coal carrier

L x B x D: 115.00 x 20.00 x 12.00

Gross tonnage: 7,287 tons Deadweight: 6,600 tons

SNo.1352

Cement carrier

L x B x D: 142.00 x 23.50 x 12.00

Gross tonnage: 11,036 tons Deadweight: 14,900 tons

<ASPHALT CARRIER>

SNo.1251

Asphalt Carrier

L x B x D: 79.99 x 13.20 x 6.40

Gross tonnage: 1999 tons Deadweight: 2309 tons

<CONTAINER SHIP>

SNo.1223

Container

L x B x D: 90.00 x 13.40 x 7.10

Gross tonnage: 749 tons Deadweight: 2,000 tons

SNo.1356

General Cargo/Container

L x B x D: 96.37 x 13.40 x 7.275

Gross tonnage: 744 tons Deadweight: 1,650 tons

<FERRY / RORO SHIP>

SNo.1227

Ferry/ Car Carrier

L x B x D: 85.00 x 14.40 x 4.10

Gross tonnage: 999 tons

SNo.1371

ROROL x B x D: 68.38 x 13.00 x 4.00

Gross tonnage: 499 tons Deadweight: 637 tons

SNo.1376

ROROL x B x D: 89.80 x 14.00 x 9.45

Gross tonnage: 1,083 tons Deadweight: 1,175 tons